The PEPperCHIP® Platform Technology
Our PEPperCHIP® Peptide Microarray platform combines laser printing technology with solid phase peptide synthesis (SPPS), enabling the production of high-density peptide microarrays in the fastest and most cost-effective manner. This award-winning innovation is based on a proprietary laser printer equipped with 24 individual amino acid toner cartridges, which can print amino acids to peptides directly onto coated glass slides in a completely new approach to combinatorial peptide synthesis.
Explore the science behind our technology by interacting with the highlighted areas on the graphic below.
Laser-Printed Peptide Microarrays
From library design to microarray chip in as little as 4 weeks.
---
Step 1 : PRINT
In less than a minute, PEPperPRINT's patented 24-color laser-printer prints a layer of up to 300,000 defined spot patterns of pre-activated and Fmoc protected amino acid toner particles onto a specially coated glass slide.
Jump to: Peptide laser printer | Amino acid microparticles | Glass slide coatings
Step 2 : MELT & COUPLE
A heating step melts amino acid toners between printing cycles, releasing activated amino acids to initiate a coupling reaction to either the chip surface, or to previous residues.
Steps 3-4 : WASH & DEPROTECT
After removal of excess material by washing, and de-protection of the N-terminal Fmoc group by cleavage, the next amino acid layer is printed and coupled. The cycle is repeated until the designated linear peptide is synthesized e.g. for linear epitope mapping.
Step 5 : CYCLIZE
Optimized cyclization routines allows disulfide- and thioether bridging between N and C terminus of each peptides enabaling peptide loops for e.g. conformational epitope mapping.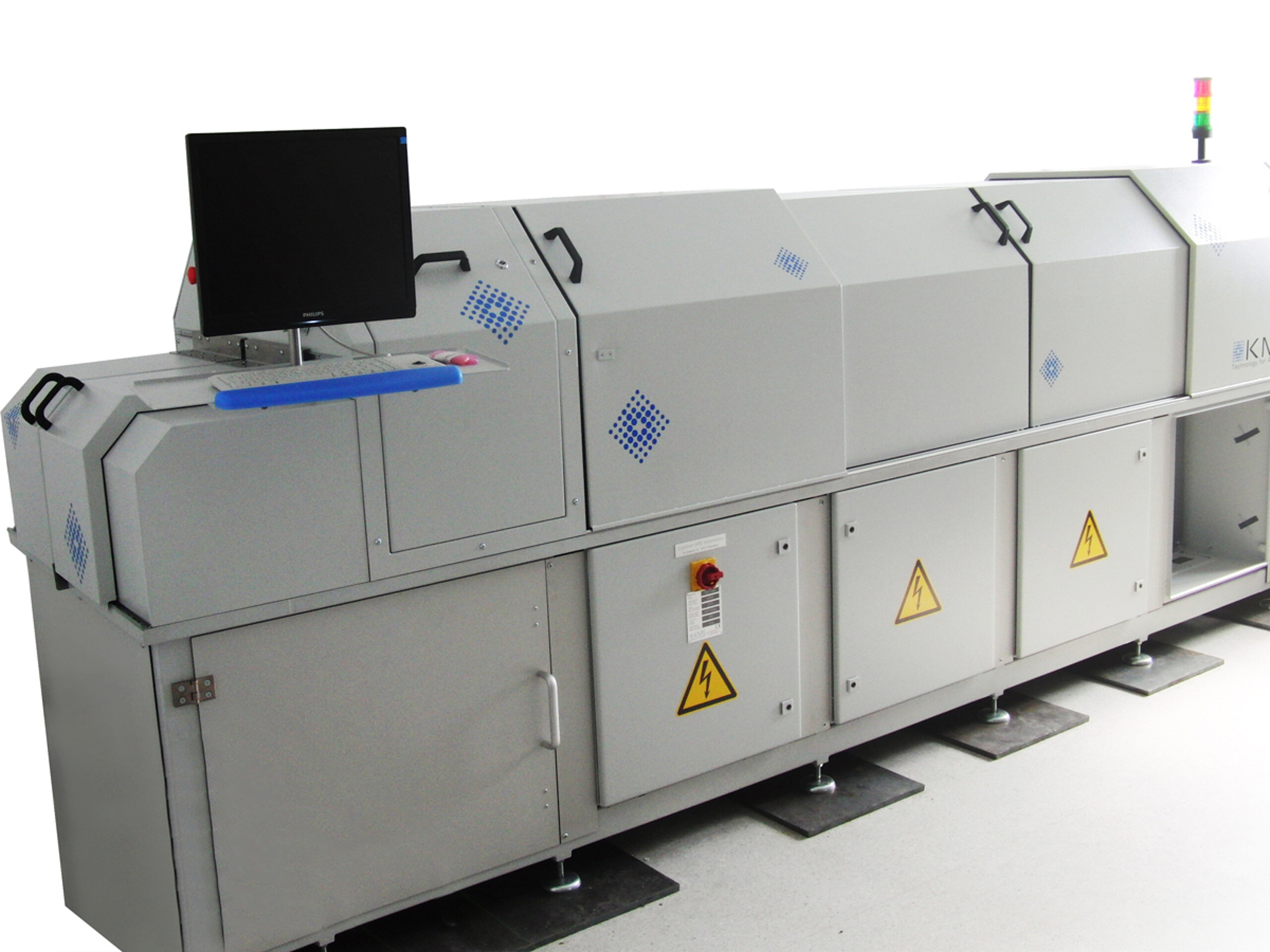 The PEPperCHIP® Peptide Laser Printer
Meet the largest molecular printer.
---
Measuring 4.5 meters in length, 3.5 tons in weight, and printing up to 300,000 spots per minute, the PEPperCHIP® Peptide Laser Printer is at the core of our peptide microarray technology. Conceptually based on a conventional laser printer, the custom-built instrument is specially designed to print peptides with its 24 amino acid printing units. Robustly built to withstand thermal buckling or ground vibrations, its unique features include image recognition optics for glass slide alignment and print job management, as well as a linear stage and precision mechanics for repeated printing with micron resolution.
The combination of high-precision mechanics, a massive scaffold, and sophisticated software solutions enables the on-glass printing of peptide microarrays based on amino acid toner particles.
Amino Acid Toner Particles
Low material consumption. High peptide quality. Our cost-effective solution.
---
Instead of using liquids or tiny droplets for combinatorial peptide microarray synthesis, we developed a unique toner formulation of solid polymer based microparticles with embedded and pre-activated amino acids. Melting of these particles forms a liquid sphere and releases the embedded amino acids to initiate coupling on the microarray support, enabling high-density synthesis of peptide microarrays. Thanks to the long-term stability of the amino acids in microparticles and significantly reduced material need, the PEPperCHIP® platform allows for more cost-effective solutions than any other peptide microarray technology.
We can synthesize any peptide microarray using the following amino acids and monomers.
Proteinogenic amino acids
| | | | |
| --- | --- | --- | --- |
| • | Glycine | • | L-Leucine |
| • | L-Alanine | • | L-Lysine |
| • | L-Arginine | • | L-Methionine |
| • | L-Asparagine | • | L-Phenylalanine |
| • | L-Aspartic acid | • | L-Proline |
| • | L-Cysteine | • | L-Serine |
| • | L-Glutamic acid | • | L-Threonine |
| • | L-Glutamine | • | L-Tryptophan |
| • | L-Histidine | • | L-Tyrosine |
| • | L-Isoleucine | • | L-Valine |
| | | | |
| --- | --- | --- | --- |
| • | Aminoisobutyric acid | • | D-Cysteine |
| • | Biotin | • | D-Glutamic acid |
| • | N-Acetyl-L-lysine | • | D-Lysine |
| • | N-Methylglycine | • | D-Tryptophan |
| • | N-Methyl-L-alanine | • | L-Citrulline |
| • | N-Methyl-L-isoleucine | • | L-Homocitrulline |
| • | N-Methyl-L-norleucine | • | L-Ornithine |
| • | N-Methyl-L-phenylalanine | • | L-Tyr(2-Cl-Trt) |
| • | D-Alanine | | |
| • | D-Aspartic acid | | |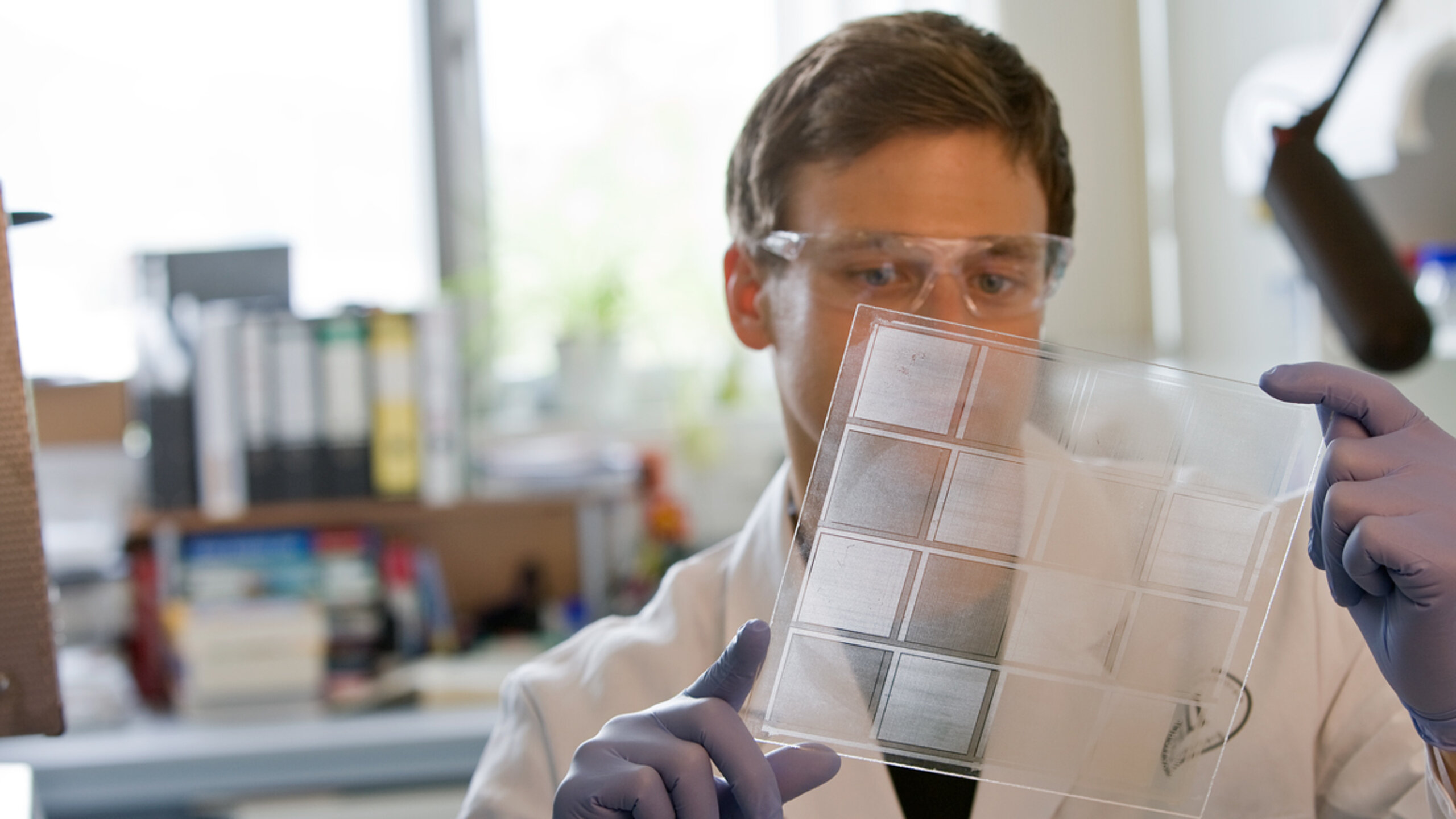 Glass Slide Coatings
Ensuring assay sensitivity and reproducibility.
---
Due to non-specific interactions of proteins with surfaces, microarray performance and assay sensitivity strongly depend on carefully adjusted slide coatings. Our microarrays are printed on glass slides that have been treated with PEPperSlide® glass coating, a proprietary coating formulation based on 3D copolymer films generated by atom transfer radical polymerization, specially developed in-house for use with our PEPperCHIP® platform technology.
The coatings are analyzed initially by X-ray photoelectron spectroscopy to determine atomic composition, and routinely by ellipsometry to investigate film thickness and homogeneity. Polymerization is followed by derivatization with linker molecules suitable for combinatorial Fmoc peptide synthesis; the amine loading is routinely analyzed and controlled by UV-vis spectroscopy.
Quality Control Management System
In order to ensure highest standards for our products and services, PEPperPRINT is certified for DIN EN ISO 9001:2015, which sets out the criteria for a quality management system. DIN EN ISO 9001:2015 has a strong customer focus, structures business and production processes, determines quality control steps, and also includes continuous improvements.

PEPperPRINT performs annual internal and external audits to validate its quality management system and to maintain DIN EN ISO 9001:2015 standards. Throughout frequent customer contacts and additional customer satisfactory surveys, we constantly strive to improve our products and services according to our customers' needs.
Assay reproducibility and data reliability are vital for a broad and routine application of peptide microarrays. We established the following QC means to guarantee highest peptide microarray qualities:
Amino acid toners are routinely analyzed by HPLC
Surface loading of glass slides is determined by UV-vis spectroscopy
Glass slide coatings are routinely analyzed by ellipsometry
Printer calibration and microarray chip identification in-line with production processes
Individual prints are visually inspected
Routine double coupling steps to increase quantitative peptide yields
Non-reacted amino groups are capped to avoid the formation of deletion peptides
All coupling and coating steps are processed under controlled inert gas atmosphere
All washing, capping and deprotection steps are carried out automatically by a software- and sensor-controlled synthesizer
Up to 160 peptide microarrays are produced within a batch, ensuring highest chip-to-chip and on-chip reproducibility
Before usage or shipment, each microarray batch is analyzed by a control assay with a peptide microarray of well-selected standard sera signals, and additional FLAG/HA permutations stained by a standard set of antibodies. The assay provides detailed insight on coupling and printing performance of the amino acids, and would uncover any quality issues regarding amino acid integrity and printing performance.